PIMAP ESCP-4i, COSME project
Photonics for International Markets and Applications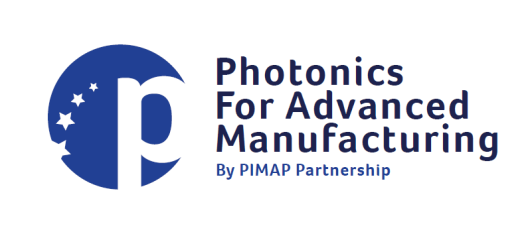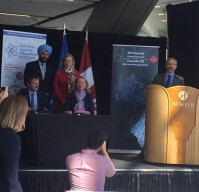 Business Mission to Toronto, Canada, 3-7 June, 2019
The most important PIMAP activity, internationalisation possibilities for SME's! Visits to leading photonics companies and larger metals companies like Aurubis in Buffalo, USA, and Stelco in Hamilton, Canada. Business discussions started with SME's in the Triple Steelix region, we hope to see progress!
Also participation in the EU-Canada Cluster Matchmaking Event in Toronto with signing of an agreement for deeper collaboration between the nations. Agreed between Navdeep Bains, Canadian Innovation, Science and Economic Development Minister and Elżbieta Bieńkowska, EU Commissioner for Internal Market, Industry, Entrepreneurship and SMEs (photo).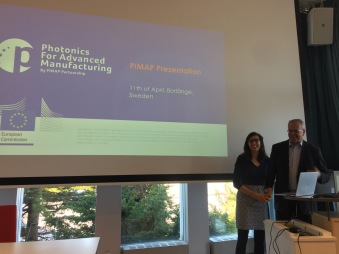 Workshop i Borlänge, 11 April 2019
En workshop arrangerades för att diskutera möjligheter med fotonik för tillämpningar inom stålindustrin. Clémence Rottée, Alpha-RLH och Larz Ignberg, Triple Steelix, öppnade mötet (foto).
Saed Moussavi, SSAB och Jan Kokk, Sandvik, delade med sig av vilka utmaningar som finns och hur framtida krav driver utvecklingen. RISE och företag som Shapeline, Radarbolaget och Proximion presenterade möjliga fotonikbaserade lösningar.
Ca 25 personer deltog i seminarium och workshop och tog del av de möjligheter till internationalisering som finns via PIMAP Partnerships nätverk och aktiviteter.

En av de inbjudna talarna var Larz Ignberg från Triple Steelix. "Fotonik som möjliggörare av avancerad produktion och tillverkning av metaller".
The PIMAP Partnership has been set up to support 4 clusters, their SMEs and regional ecosystem actors to ensure key enabling technologies (KETs) such as photonics including conventional but essential technologies such as laser and microwaves can be mobilised to support Smart Manufacturing and related industrial applications. This cross sectoral activity will help drive the industrial modernisation process in Europe and will provide a springboard for cluster SMEs to internationalise and support regional actions through the leverage of photonic technologies in key emerging industries.

The inter-clustering actions will help match photonics/technology solutions with market applications to ensure cluster ecosystems linkages are strengthened. The concept will create synergies between cluster and SME policy support programmes from DG GROW and KET's from DG RTD and support regional growth via S3 strategies. With two photonic/KET clusters and two industrial applications/ integrator clusters PIMAP can provide the foundations for both European inter cluster and international cooperation actions. SMEs will play an active part in designing and testing the strategy and sharing their experiences with SMEs from other clusters.

Two third country targets have been identified (USA and Canada) and will provide the test bed for the strategy and proposed roadmap. SMEs will participate in all stages (awareness raising, learning, testing and implementation) to ensure PIMAP is market oriented. Partners expect to involve upwards of 900 SMEs in these actions. The partners are committed to devising an internationalisation strategy with a roadmap to guide the implementation process and will propose branding and a legal framework to bind the partners together.

The project will deliver synergies with other initiatives such as Vanguard and has strong support from regional policy makers (ERDF, Interreg funding). These links will facilitate the scope for sustainability actions to succeed.

https://www.clustercollaboration.eu/profile-articles/pimap-partnership-supporting-its-companies-access-international