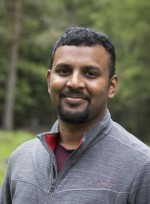 My name is Shashank Ramesh Babu. I am in the last stages my doctoral degree in Materials Engineering from University of Oulu, Finland (will be completed by spring 2020). After this, I am looking for opportunities to work in the Swedish steel industry. My area of research is understanding phase transformations in as-quenched low carbon steels.

I was part of the YCEAS 2018 summer school coordinated by Tiina Ohlsson, Triple Steelix. The strong positive impression about Sweden and the steel industry though the summer school has motivated me to look for opportunities here.

I am from India. I have lived for about 3 years in Germany and 4 years in Finland. My most recent passion has been motorcycling during the summer.