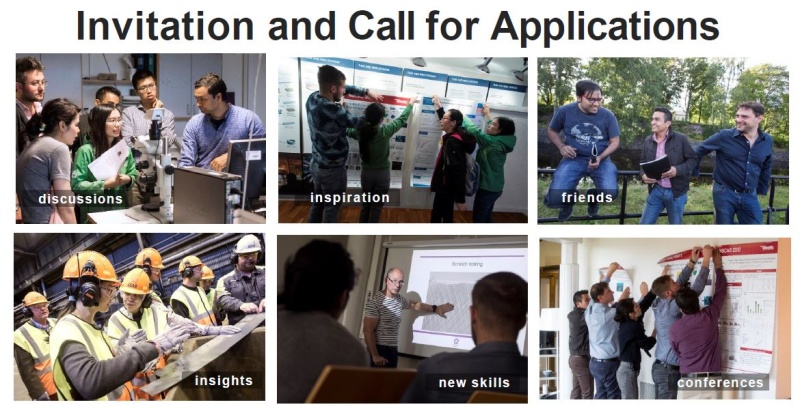 Triple Steelix warmly invites PhD students from all over the world working in the fields of processing and properties of advanced steel to join the 6th Young Global Center of Excellence in Advanced Steel - Summer Colloquium. Are you working on your PhD in material technology within the field of advanced steel processing techniques and advanced steel properties, additive manufacturing, process development (special steel, high strength steel, stainless steel)?

Registration before 25 June!
Spend two weeks in the heart of the Swedish steel industry. Have a great time with new friends and expand your network in an international group. 24 August - 4 September 2020, in Sweden. Print the invitation!
A step further in your efforts
Are you one of the 15 PhD students to join our successful summer colloquium, full of inspiring activities? Meet, discuss and make contacts with renowned R&D leaders and organisations from Swedish world leading steel companies, academics from the universities and public bodies being a link to work-family-and-living in the region.

Participate in state-of-the-art lectures. Discuss your work with the industry leaders. Get inspiration from fellow participants. Enjoy a variety of social activities. Participate in HTSC2020, High Tech Steel Conference 2020 in Sandviken, Sweden.

Registration fee
The registration fee, SEK 4,900 (approx. € 490), includes everything once you get to the meeting place in Borlänge, as well as all activities, HTSC fee, food & accommodation and all transport in Sweden. You only have to cover your travel expenses to the meeting point in Borlänge and back home when you leave, which could be sponsored by your institution.
Application
Applicants are required to fill in the application form on the YCEAS website and submit an abstract describing your current research before June 20. Invited participants should then fill in the final application form and pay the registration fee no later than July 03. Invitations are limited to a maximum of 15 participants. The applications indicating the highest quality and relevance are to be selected.
Diversity encouraged. We welcome more women and traditionally underrepresented groups.

Poster Sessions
Each participant is expected to bring a poster in an A1 format. The posters will be used in different sessions, expositions and conferences.
You can get your poster printed in Sweden if you submit it through the website no later than Aug 9. You will need to design a poster that is A1 portrait (594 mm width x 841 mm height) in colour. Your poster should be created in either PowerPoint or PDF format. More info abut posters!