Webinars during the autumn 2020
For international researchers
We are sorry that we won´t be able to meet IRL in Sweden this autumn but also pleased that we can make a change and use digital tool to meet online, listen to interesting research results and innovative enterprises. We arrange four webinars during autumn 2020.

Each webinars program will comprise:

Steel Industry presentation
VR visit to the participation industry
Coffee brake
Two PhD presentations
Group discussions.

Close the webinar and welcome to meet at ESTAD 2021 in Stockholm. https://www.estad2021.com/ We prepare to invite you to our ordinary summer colloquium to Sweden in June 2021.

Are you interested in giving a presentation of you research at HTSC we would like to know if you are interested to present your research in a webinare?

About YCEAS

YCEAS year 6
After five successful and highly valued international summer colloquiums we are
now aiming for year six. This year The Corona pandemic made us develop the concept and now we are happy to invite you to four webinars during autumn 2020.
The colloquium offers PhD students a unique opportunity to meet some of the most renowned research and innovation teams from some of the world's leading companies and universities specialising in advanced steel. 2020 you will meet four steel industries. Listen to them presenting their business and take a tour in the company by VR technique.

2021 we are happy to invite you to our summer colloquium in June and close 2021 at ESTAD 2021 that will be a part of the program.
YCEAS is an inspiring fortnight with fellow students, lectures, knowledge exchange, industrial visits and social activities. It is a great opportunity to build a very valuable professional and personal network. It gives participants an experience for life!

Invitation and Call for Applications
Triple Steelix invites PhD students from around the world working in the fields of advanced steel processing techniques and advanced steel properties (special steel, high strength steel, stainless steel) to join the 6th Young Global Center of Excellence in Advanced Steel Summer Colloquium, an exciting experience with interesting talks, meetings, lectures and research exchange. This year we will meet online.
Download invitation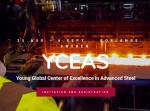 By 2020, the successful and highly valued international summer research school YCEAS will be implemented for the sixth time.

YCEAS has grown into an international network with about 40 former participants. YECAS's network of researchers, doctoral students and innovators is spread all over the world at research institutes, universities and companies.

The past and future participants contribute to an important competence bank for steel and engineering companies both in Sweden and internationally. Leading expertise is sought after and needed by the companies.

During the two weeks that YCEAS is running, researchers and doctoral students from around the world will have the opportunity to meet some of the most well-known and world-leading companies that specialize in advanced steel and advanced steel processes.

The results of previous YCEAS have, among other things, led to collaboration between researchers which has resulted in published articles.
Here is one example.
Now we have completed the 2019 Young Global Center of Excellence in Advanced Steels.
We received the evaluation from the doctoral students, which is excellent.

This year, new steel industries have participated that have not been part of the program before. We have also expanded the geography to Värmland with Karlstad University and Uddeholm AB, as well as new participating universities, the University of Birmingham and the Technical University of Delft. This means that we are expanding the network of participating partners both within and outside Sweden's borders.

We arranged the fifth summer research school and now we are starting to see that the business is expanding its results.

The purpose from the beginning was to showcase the Swedish steel industry and the steel region for international doctoral students around the world. This will increase the attractiveness of the Swedish steel industry internationally.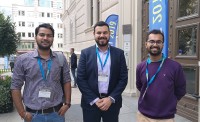 Today we have just over 40 good ambassadors for Sweden, our steel region and the Swedish steel industry.
Beyond this:
• Collaborations between participating universities have been established
• Two of the participating doctoral students currently work at Swedish mining and steel companies
• We have reported interest in coming to Sweden after completing research studies and working in the steel industry, both in research departments and in production.
• Desire for traineeships and to be part of research collaborations
• Demand for doing business with Swedish steel companies has started to come.

We who are engaged and run the business keep in touch with most of the participants. From the 2017 participants, we have contact with everyone via a LinkedIn group, to which we strive for all participants and partners to join easily to find the contacts we want to make and to build the network. It is not fully active or built up yet, but the goal is that LinkedIn becomes the summer research school's premier network site
https://www.linkedin.com